Game by G.M.Spectre.
UFGE engine by Trufenix.


Game Download
CLICK HERE to download King of Fighters 20XX Ex v2.0 (Mediafire link).
CLICK HERE to download King of Fighters 20XX v1.5 - aka the crappy old version (Mediafire link).
Introduction
One night in Southtown at the end of the Real Bout tournament, Geese Howard faced his sworn enemy Terry Bogard. Terry swiftly defeated his rival, whom was left hanging on a ledge. Terry reached out to Geese Howard to save him, but instead of accepting the help, and therefore defeat, Geese let himself fall to his death.....
Luckily for him he got better, and was back the next day handling his business/crime syndicate. However, something had been bothering him. This had been the third or fourth time he died, and when he was inactive, people kept taking over his tournament. First it was that Wolfgang Krauser guy. Then it was some douchebag in a tuxedo with a battleship. Then it was a bunch of Orochi and Nests jerks.
So he came to the decision that he would run the greatest King of Fighters ever. He sent invitations to everyone who has ever been in a videogame for a giant team tournament to be held in Southtown. The King of Fighters would be his once again!
Youtube Preview
The Teams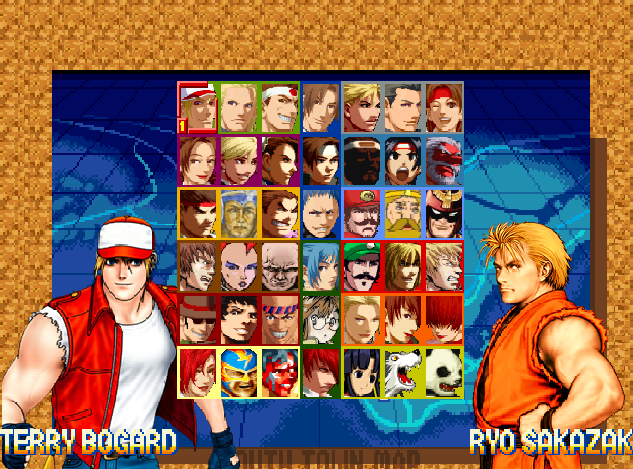 | | |
| --- | --- |
| THE FATAL FURIOSITIES | THE ARTFUL FIGHTERS |
| TEAM KYO KUSANAGI | TEAM YAGAMI |
| TEAM GALS FIGHTERS | ART OF FIGHTING GAIDEN |
| CAPCOM POWER STRIKE | NINTENDO FUN CLUB |
| TEAM DOUBLE DRAGON | TEAM PLAYER TWO |
| THE DISCIPLES OF KAPHWAN | THE OROCHI REVIVAL |
| THE LORDS OF THE RING | THE WORLD WILDLIFE FUND |
Feedback
If you play this please send thoughts, good or bad, to gm.spect@gmail.com. Enjoy!